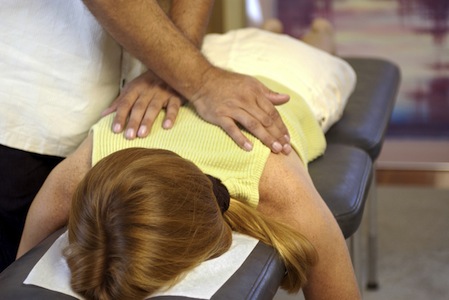 As Manly based Chiropractor's we are often asked to explain what chiropractors do? There is a misconception that chiropractors are like physios, osteos or general practitioners and that all we do is "crack backs" and "re-align bones" in some sort of painful pseudo medical consultation.
I believe this misconception is due to the unique nature of chiropractic. There is nothing else like it. Although Chiropractors are primary health professionals educated specifically to assess, diagnosis, treat and prevent conditions of the spine, joints, muscles and nervous system, it's difficult to see past the stereotype of the 'back cracker".
Our unique approach to spine and nervous system health does not involve the pharmaceutical suppression of symptoms or the surgical removal of damaged tissue. At Northern Beaches Chiropractic Centre (Manly) we aim to serve our community by providing the kind of health care that reduces the need for medication and surgery and therefore may be misconstrued as being anti-medicine.
This is not the case at all.
Instead of focusing solely on your presenting symptoms (as is the case in medicine) we will take a few steps back and look at your entire structure to identify the underlying cause of the problem. In this way we aim to address not only the injury or site of pain, but also help to prevent future breakdown. We address the structural and neurological dysfunction through specific chiropractic adjustments, which then allow the body to heal itself. Chiropractors acknowledge the lifestyle influences on health such as diet, hydration, exercise, stress, and sleep and seek to promote true health and well being by addressing these crucial factors.
Although we receive the majority of our referrals from our current and past clients we also regularly see patients referred from doctors, massage therapists, acupuncturists, midwives and early childhood specialists to name a few.
Statistics show that we as a society are relying more and more on expensive, life altering medical intervention. And while we support the individuals right to good health we believe that treating a disease after it has manifested symptoms is like shutting the gate after the horse has bolted. If the unhealthy lifestyle choices are not being addressed successfully then poor health will continue to be an issue. Statistics also show that families or individuals that live what we refer to as a chiropractic lifestyle (eat well, move well, think well) are less inclined to need medical intervention. This is a great outcome for society as a whole but more importantly it's a great outcome for that individual or family.
There are currently over 215,000 visits to Australian chiropractors each week with more and more people like you realizing the greater benefits of improved health and wellbeing.
Manly is blessed with fantastic healthcare practitioners and healthy lifestyle choices, Northern Beaches Chiropractic Centre is unique in it's approach to restoring and maintaining health and wellbeing.
We believe everyone will benefit from a chiropractic 'check up' but are just as happy to discuss your health concerns one on one in our office or over the phone. If we don't think you will benefit from chiropractic care then your initial consultation with us will be at no charge to you.