Village Talks
Grab a friend or three and bring them along for a canapé style dinner with a drink at Manly Greenhouse and be inspired to live your best life. Spring is the perfect time to do so.
Our two speakers are knowledgable, approachable and experts in their fields.
Village Talks are proud to present Josh Sparks and Scott Gooding for an "all in" Q&A on a low carb lifestyle.
Josh Sparks (Founder & CEO of Thr1ve)
Josh has spent the past 14 years in high growth leadership roles as CEO of sass & bide, Managing Director with Urban Outfitters Inc, and CEO of Thom Browne New York.
As a lifelong health and fitness enthusiast, and with five years of powerfully personal experience with ancestral health protocols, Josh was consistently astounded at the lack of any authentically healthy dining in top retail centres around the world. Recognising the transformational potential for a health and wellness brand founded on evidence based dietary principles, and excited by the opportunity to genuinely enhance how customers look, feel and perform, Josh brought together his many years of professional experience and personal passion to create THR1VE. A soon to be published study looking at the Thr1ve protocol will be discussed on the night.
Scott Gooding (MKR & Reconditioned.Me)
"The modern diet is drenched in convenience and fast food, which has allowed us to stray from the path of health.  I see cooking being the central component of the household and a time to bring loved ones together – a time to reconnect in a disconnected world.
Cooking at home with love is the biggest lever to health and will enable us to be the custodians of our own health.
I'm a passionate cook, health-coach and PT since 2005.  In 2013 I made the semi-finals of channel 7's MKR which allowed me to share my version of healthy food.  More recently I have aligned with Whirlpool, Body Science, Thr1ve, Huon Salmon, Undivided Food Co and my latest project www.reconditioned.me – an 8 week online health program giving you the essential ingredients to live a healthy lifestyle and feel great!"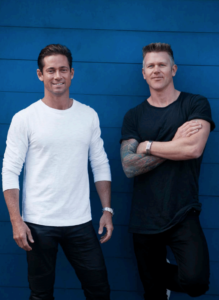 We'll update this page with our upcoming events, and make sure there's a write up on our Blog.
Don't forget to keep an eye out on our social channels too!